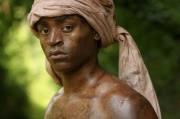 Students, staff and faculty are invited to view the film "Prince Among Slaves" a film that recounts the true story of an African Muslim prince who was captured and sold into slavery in the American South. After 40 years of enslavement, he regained his freedom, became a national celebrity and dined in the White House. This is an incredible story about an incredible man who endured the humiliation of slavery without losing his dignity or his hope for freedom. Please join us!
The film will be shown on Thursday, February 28 from 3 – 6 pm in the MTCC Auditorium. Visit the Facebook event page or contact Lynne Meyer, director of Spiritual Life and Service Learning, at lmeyer2@iit.edu or 312.567.3160.
This screening of "Prince Among Slaves" is the first of a series of events about Islam planned for 2013 by IIT's Paul V. Galvin Library, in partnership with the Office of Spiritual Life and Service Learning; the Student Center for Diversity and Inclusion; the International Center; the Muslim Students Association; the Office for Student Success, Access and Diversity Initiatives; and other IIT offices.
Galvin Library is the recipient of a 2013 grant from the National Endowment of the Humanities issued in cooperation with the American Library Association. The grant–Muslim Journeys Bookshelf–consists of twenty-three books , three films, and access to Oxford Islamic Studies Online .
The Bridging Cultures Bookshelf: Muslim Journeys is a project of the National Endowment for the Humanities, conducted in cooperation with the American Library Association, the Ali Vural Ak Center for Global Islamic Studies at George Mason University, Oxford University Press and Twin Cities Public Television. Support was provided by a grant from the Carnegie Corporation of New York. Additional support for the arts and media components was provided by the Doris Duke Foundation for Islamic Art.