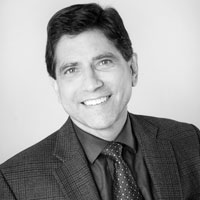 Philip Troyk, a candidate for director of the Pritzker Institute at Illinois Tech, will give a talk on Monday, November 20 at 2 p.m. in Wishnick Hall Auditorium titled "A Vision for PIBSE: Using Experiences from Large Team Projects."
The Pritzker Institute of Biomedical Science and Engineering has a rich history at Illinois Tech. Formed under the vision of Bob Pritzker, the Pritzker Institute's founding mission was to promote the transition of technology to the clinic in order to have an impact upon rehabilitation and treatment of disease. While 30 years ahead of its time, this inaugural concept has now been echoed by the National Institutes of Health, the DOD Telemedicine and Advanced Technology Research Center, the DARPA Biological Technology Office, and by Congress through the 21st Century Cures Act, in supporting what is now called Translational Research. The NIH BRAIN Initiative alone is expected to significantly grow in funding over the next 10 years.
To access this emerging funding, PIBSE can facilitate large team projects through highly-focused and, strategic efforts. Through the anchoring of biomedical engineering in the basic sciences, PIBSE can lead consortiums of partners drawn from academia, clinics, and medical industries. As the leader, Illinois Tech can use its organizational flexibility, innovative capacity, and technical skills to facilitate and make possible new, and, high-profile translational accomplishments that indeed impact people's lives and make possible new treatments. Recent corporate and federal funding initiatives provide the opportunities for PIBSE to reclaim international prominence in biomedical science and engineering. By leveraging its position in Chicago and ability to assemble multi-disciplinary teams the Pritzker Institute is well-positioned to strategically support current and new researchers, compete for timely research funding, and educate the next generation of biomedical innovators.