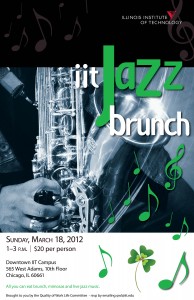 Join Quality of Worklife on March 18, 2012 for our annual Jazz Brunch on the 10th floor of the downtown campus (565 West Adams). The brunch features live jazz, great food and mimosas at a cost of only $20 per person.
Purchase your ticket now here. Contact qwl@iit.edu with any questions.
Send your ideas to QWL
If you have a suggestion for new QWL programs, or feedback on existing programs, please fill out this form or email us at qwl@iit.edu.