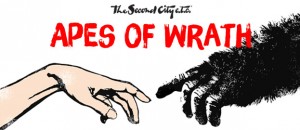 The Quality of Work Life has purchased 40 tickets to The Second City's 38th e.t.c. Revue: "Apes of Wrath," playing Friday, September 12, 2014 at 8 p.m.
Second City is located at 1616 North Wells Street in Chicago's Old Town neighborhood. Tickets are $14 each.
Contact qwl@iit.edu to purchase tickets.