The Vedic Vision Society presents the theatrical play "Ramayana" – a drama depicting the epic battle between Prince Rama of Ayodhya and the demon king Ravana of Lanka on Saturday, October 19, 2013  from 5-6pm at the IIT Tower Auditorium.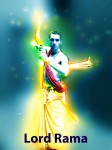 Tickets can be purchased for $3 at Krishna Lunch locations in the Siegel and Stuart Lobbies from 11am – 1pm.
This event reflects the values expressed in IIT's Diversity Statement and is intended to promote diversity at IIT.