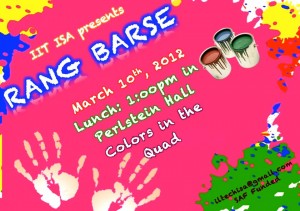 Its time for one of the most exciting and fun festival of India and the IIT Indian Students Association (ISA) won't miss this opportunity to celebrate it.  ISA plans an awesome afternoon for everyone to enjoy this festival of colors on Saturday, March 1.  The weather is gonna be awesome, so one more reason to have fun!
Lunch
Menu: Mix pakora, Samosas, Dahi bhalla, Bhel poori, Kadhai paneer, Dal makhani, Kesari pualo, Naan, Raita, Gulab jamun and jalebis
Location: Perlstein Hall Lobby
Time: 1:00 pm
The event is free for everyone, first come, first served.
Playing with Colors
Location: Quad
Time: 2:30 pm (after lunch)
We have lots of colors, water balloons and pichkaris (water guns). Please come join us this saturday and make this holi even more fun!