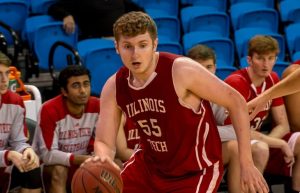 The Illinois Tech Men's Basketball team visited Moody Bible Institute on January 24. The Scarlet Hawks jumped out ahead and led from start to finish in a 73-60 win.
Half Scores
First half: Illinois Tech 38, Moody 27
Second half: Illinois Tech 35, Moody 33
Scarlet Hawk Standouts
Samuel Rarick, senior co-captain, scored a game-high 25 points on 11-of-17 shooting. He also corralled a game high 13 rebounds.
Malik Howze supplemented Rarick with 19 points and seven rebounds of his own.
Jake Digiorgio was great off the bench, scoring 16 points and nine rebounds. Five of his rebounds came on the offensive end.
Stats to Know
Illinois Tech out rebounded Moody at a staggering rate (50-31).
Illinois Tech overcame a rough night from beyond the arc (one-for-18).
Each team attempted 11 free throws and committed just 10 personal fouls.
Up Next
The Scarlet Hawks will head to Watertown, Wisconsin next week to take on Maranatha Baptist University on Tuesday, January 31 at 7 p.m.