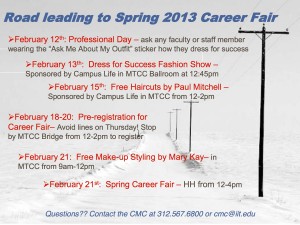 Are you ready for the Spring Career Fair?
3000+ jobs available – 130+ companies – 56% hiring International
Let IIT help you get ready for your next internship, co-op and full-time position!
The CMC is sponsoring a "Professional Day" on Tuesday, February 12. Stop anyone wearing an "Ask Me About My Outfit" sticker for information about how they dress for success. The Office of Campus Life is sponsoring a "Dress for Success Fashion Show" on Wednesday, February 13. Free haircuts will be available by Paul Mitchell on Wednesday, February 15. Mary Kay will be giving free makeup styling on Thursday, February 21 from 9 am – 12 pm in MTCC.
Want to avoid the long registration lines at the career fair? Pre-register for the event on February 18 – 20 from 12 – 2 pm on the MTCC Bridge.