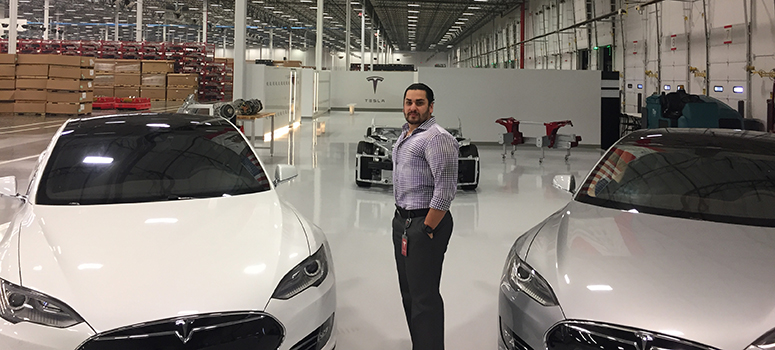 Recent Armour College of Engineering graduate Erfan Ahmadi (ME '15) was sure he wanted to work for Tesla after a friend gave him a tour of the company's facility in California. He knew the revolutionary electric car manufacturer that recently expanded into energy storage and solar panels would provide him with a challenging work environment.
In March 2016, Ahmadi started at Tesla as a Process Engineer. He was quickly promoted to Quality Engineer, where he currently works towards bettering the product while saving cost, and increasing productivity. "It is an absolutely fulfilling career and I am thrilled to work for such an amazing company," he shares.
"Illinois Tech prepared me for the industry and the degree I earned wasn't just a grade," say Ahmadi, "the university taught me how to think, and gave me the tools to succeed." Those skills didn't come easy—he spent many late nights at the Galvin Library studying for finals, attended the office hours of professors to ensure he understood the concepts learned in class, and spent his spare time working on projects for his internships.
The opportunities provided at Armour helped prepare Ahmadi for the industry, but the mentorship of world-class faculty helped support him through the rigorous curriculum. "Professors like Matthew Spenko, Roberto Cammino and Candace Wark are great resources. Armour faculty prepare you for your industry by raising your standards and challenging you to achieve your most ambitious goals," shares Ahmadi.
During his time at Armour, Ahmadi took advantage of the opportunities to expand his knowledge through participation in the IIT Engineering Themes Program. The initiative features a group of experiences that allow undergraduates to explore worldwide engineering issues, centered around four themes: Water, Health, Energy, and Security. Participation in the program helped further develop Ahmadi's passion for renewable energy and environmental consciousness and prepare him for his job at Tesla. He was awarded a medal for his outstanding participation in the program when he graduated.
Illinois Tech proved to be the perfect place to for Ahmadi to explore his entrepreneurial interests. He gained his first startup experience when he was hired as an intern by an Illinois Tech based startup that was searching for talent during a career fair. This led him to begin a startup with a partner called Captr. The company specializes in apparel and their signature jacket holds a smartphone, enabling the wearer to record photos and videos during activities without using their hands.
With Captr Ahmadi focused on designing and fabricating the mechanical components of the jacket. From the first prototype to the final fabrication, he worked closely with the company's CEO and manufacturers to meet quality standards and perfect the design. The company received a utility patent and a design patent for their product, successfully raised over $20,000 on Kickstarter and have established licensing deals for their design.
Ahmadi advises current students, "If you are only willing to do what is easy, then the hardship will knock you down. When you get discouraged remember why you started at Illinois Tech in the first place—to educate yourself, expand your horizons, and achieve your dreams."