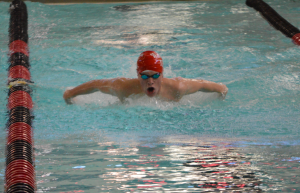 The Illinois Tech Men's Swimming and Diving team swam with some of the region's top competition at the University of Chicago's Phoenix Fall Classic. The Scarlet Hawks placed fifth out of 12 teams with a score of 328.
Final Scores
Chicago, 1022
William Jewell, 556
McKendree, 429
Olivet Nazarene, 390
Illinois Tech, 328
Lincoln, 198
Hope, 150
Lake Forest, 141
North Central, 76
Wheaton, 63
Saginaw Valley State, 55
Carthage, 30
Meet Highlights
Brendan Howley broke two school records over the three days. His second-place finish and time of 56.04s in the 100 Yard Breaststroke, as well as his fourth-place finishing time of 2:04.00 in the 200 Yard Breaststroke, are both top times in Illinois Tech history. The swims also lead the Liberal Arts Conference this season to date. In addition, Howley was strong in the 50 Yard Freestyle, placing fifth with a time of 21.69s. 
Karsen Diepholz set a school record in the 1000 Yard Freestyle with a time of 9:52.34, which he reached as a part of his fourth-place 1650 Yard Freestyle finish. Both times are top in the LAC, as is his 4:46.58 500 Yard Freestyle time, which earned him a seventh place finish. Diepholz also placed eighth in the 200 Yard Freestyle with a time of 1:46.10. His 1:45.20 time in this swim is the top time in the LAC to date.
Three of the team's relays set new top LAC times. The 200 Yard Freestyle Relay team of Howley, Matt Schindler, Julian Escasa, and Euon Seok Jo tied for third place with a time of 1:25.88. Both the 200 Yard Medley Relay (Ryan Lakner, Howley, Escasa, Jo: 1:34.53) and 400 Yard Freestyle Relay (Howley, Luke Workman, Escasa, Jo: 3:09.94) teams placed fourth.
David Polzin's 11th place finish in the 1 Meter Diving event earned him a score of 307.50, which is the LAC's top score.
Jo placed in the Top 10 in three different events: the 50 Yard Freestyle (sixth, 21.70s), 100 Yard Freestyle (ninth, 46.55s), and 100 Yard Breaststroke (ninth, 58.81s).
Miles Thompson placed sixth in the 1650 Yard Freestyle (16:47.91) and 14th in the 500 Yard Freestyle (4:52.37).
Workman reached the finals in both the 200 Yard Freestyle (13th, 1:47.78) and 200 Yard Butterfly (15th, 2:02.42).
Jay Korhonen placed fifth in the 400 Yard Individual Medley with a time of 4:12.98.
In addition, Lakner (100 Yard Backstroke, 10th, 55.17s), Escasa (100 Yard Butterfly, 13th, 53.47s), German (200 Yard Breaststroke, 15th, 2:25.97), Jason Voelker (200 Yard Breaststroke, 16th, 2:27.14), and Schindler (100 Yard Butterfly, 16th, 55.39s) all qualified for the finals in their respective events.
Quote from the Coach
"To have this many great swims this early into our season is very promising. We look very good, and are excited to carry this momentum through the rest of the year."
Up Next
The Scarlet Hawks will have a weekend off from competition before hosting the Ted Erikson Invite on Saturday, December 3 at 1 pm in the Keating Sports Center's Ekco Pool. Live video will be available for the event.