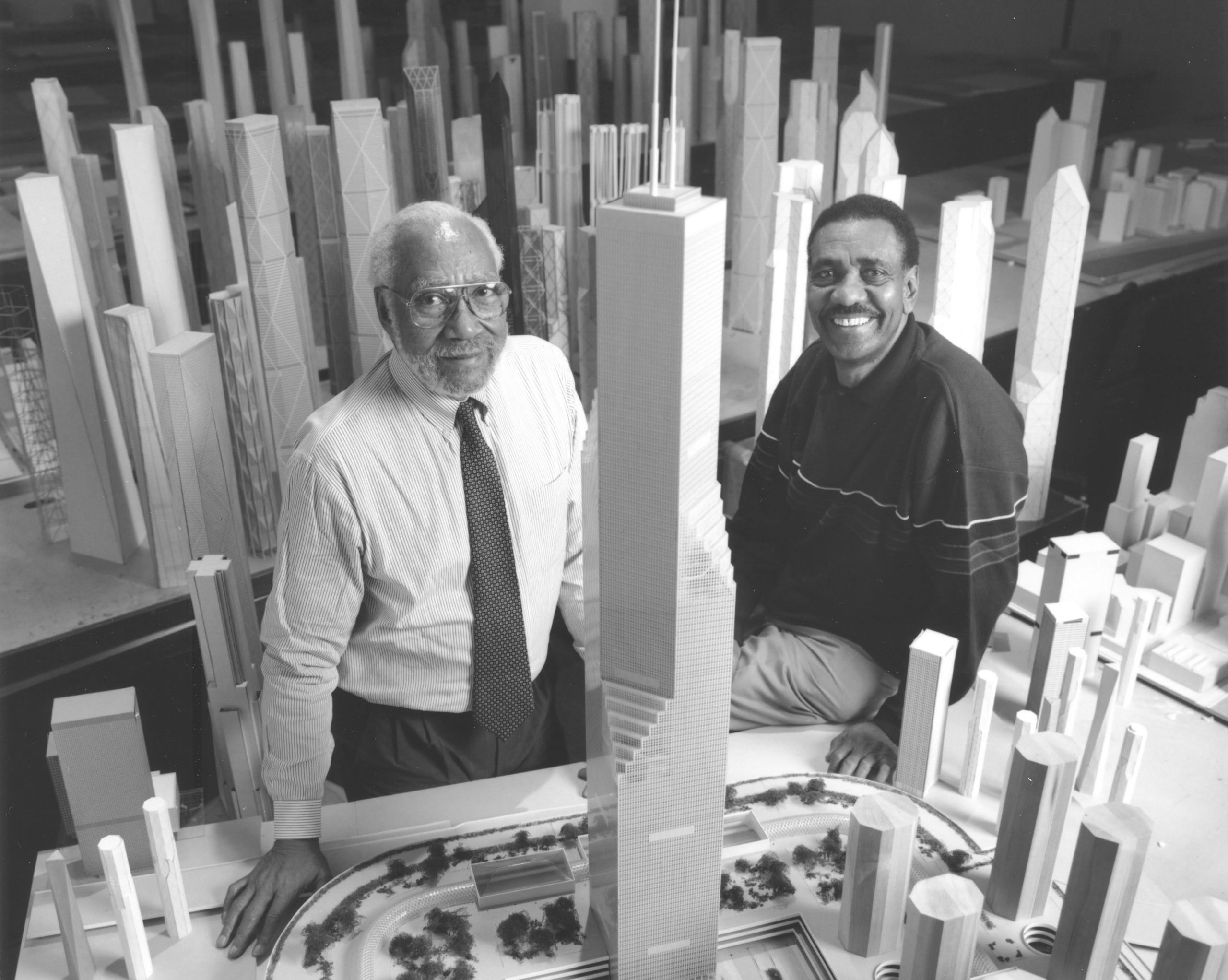 Renowned architect and educator David Sharpe (B.ARCH. '60; M.S. ARCH '62) passed away on June 20, 2020. For decades Sharpe worked as an architect at Skidmore, Owings & Merrill while also teaching at Illinois Institute of Technology's College of Architecture, where he became the architecture program's first Black professor.
"His being an African American was so important to the College—and to me," says College of Architecture Professor Mahjoub Elnimeiri, a long-time colleague and friend of Sharpe. "In this difficult time, one looks back to see that David helped bring in African-American students, championing inclusion and diversity."
Sharpe received a bachelor's degree from Tuskegee University. Following a tour of duty in the United States Air Force, he then came to Illinois Institute of Technology, where he completed a Bachelor of Architecture in 1960 and a Master of Science in Architecture in 1962. As a student, Sharpe was taught by Myron Goldsmith and was classmates with Phyllis Lambert (M.S. ARCH '63), founder of the Canadian Centre for Architecture.
"David and I were good friends," says Lambert. "We did our master's theses on long-span structures together—his on steel, for which I did the historical research, and mine on self-supporting concrete roof structures, for which David did the drawings. Many a night we stayed to work at Crown Hall, and I had dinner with Ruth [Sharpe's wife] and David at their apartment. This was a key time for me, with so many happy and fine memories."
After receiving his graduate degree, Sharpe practiced at Skidmore, Owings & Merrill, where he rose to associate partner by 1967. Working alongside fellow IIT Architecture faculty members such as Goldsmith and Elnimeiri, Sharpe contributed to some of the firm's most significant large-scale projects.
At the same time, and at the suggestion of Goldsmith, Sharpe began a nearly 50-year-long teaching career at the College of Architecture, beginning as a drawing instructor in fall 1962 and becoming a tenured professor in 1982. Sharpe's working experience, wealth of architectural knowledge, and personal investment in the success of his students made him a deeply admired member of the IIT Architecture community.
"David had a complete command of architectural and planning issues," says Elnimeiri. "He stressed and demanded quality work, but he always taught with a sense of humor. He never told students what to do, but guided them toward logical and meaningful solutions."
Though he taught across the curriculum and even served as acting chair of the program, Sharpe achieved his greatest academic distinction working with his mentor Goldsmith and fellow professor Elnimeiri to build the department's renowned graduate program. Noted for its research in structures and building systems, the program was an incubator for daring innovations in tall and super-tall buildings.
"Beginning as teacher and student, Goldsmith and Sharpe established an intellectual and academic partnership at Illinois Institute of Technology that effectively spanned an astonishing 50 years. The two combined as principal advisers for 280 graduate thesis projects, over half of all theses completed in the College of Architecture during that time," writes alumnus Ed Windhorst (M.ARCH. '93) in the book High-Rise and Long-Span Research at Illinois Institute of Technology: The Legacy of Myron Goldsmith and David Sharpe.
Sharpe retired from the College of Architecture in 2010. A year prior, the American Institute of Architects Chicago chapter recognized him with its Distinguished Service Award. Sharpe continued to teach, advise students, and do research almost until the day he died.
"David was a thoughtful and reassuring mentor to hundreds of young people who are now successful practicing architects," says College of Architecture Dean Reed Kroloff. "In that, and so many other ways, he embodied the best of this institution, and we will miss him greatly."