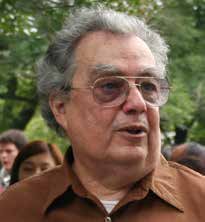 Alumnus Roy Coleman (PHYS '64), the retired award-winning Morgan Park High School teacher who invented the bridge contest in the late 1960s, needs Illinois Tech's help.
On Thursday, January 25 and Friday, January 26, Chicago Public Schools will hold two STEM Expos (science fairs) at Illinois Tech. Coleman needs volunteers from the Illinois Tech community (staff, students, faculty) to judge the students' projects and provide other support.
Judging will take place between 8:30 a.m. and noon, but even an hour or two of your participation would be a great help.
Please lend a hand to these great STEM events for our city's schools and a great alumnus.
Coleman taught at Morgan Park High School from 1964–2006, and his many honors include the University of Chicago Outstanding Teacher Award in 2005, Presidential Award of Excellence, and Argonne Chapter of Sigma Xi Outstanding Physics Teacher.
He also received a Certificate of Excellence from Operation PUSH, was a finalist for the Golden Apple teaching award, and won the Illinois Tech Alumni Medal (the university's most prestigious award) in 2006.