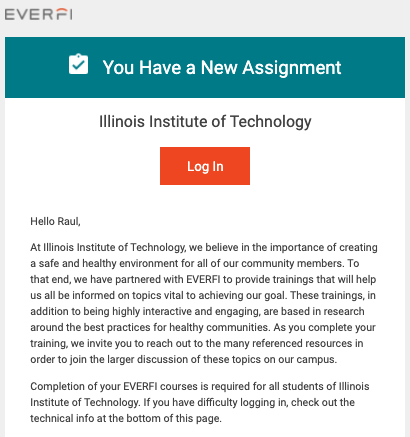 At Illinois Tech we strive to provide students an educational environment free of sexual harassment. To provide students the tools to help with this, Illinois Tech has partnered with EVERFI to provide this training module that will inform the Illinois Tech student community on topics related to the Title IX regulations, reporting a complaint, bystander intervention, healthy relationships, and consent.
Many students have received an email communication from automated-message@everfi.net in the beginning of September about the mandatory EVERFI course that needs to be completed by November 8, 2021. Illinois Tech requires all new and returning students to complete this course annually.
If you are a Chicago-Kent College of Law student, instructions and communication will be sent to you from Jenna Abhijeet, Assistant Dean for Student Affairs.
Please review the following frequently asked questions as they should assist you in understanding the importance of this course.
Frequently Asked Questions:
What are the annual Title IX training requirements for Illinois Tech students?
Under the Illinois Preventing Sexual Violence in Higher Education Act, Illinois Institute of Technology is required to provide annual training to students who are registered for at least 3 credit hours during any given semester. The training module is online and includes information to help students understand consent, report cases of sexual misconduct, find resources available to students, and includes strategies for bystander intervention.
How will students be notified about the training?
Students receive notification about the online module through their official Illinois Tech email accounts. The email that students receive comes from the email address automated-message@everfi.net with the subject line "Online Course Assigned to You by Illinois Institute of Technology." Below is an example of the email students will receive.
How do I access the training module?
Students can access the training either by clicking on the link povided here https://admin.fifoundry.net/illinois_institute_of_technology/sign_in, or through the link provided in the email regarding the training. Students will be required to use their Illinois Tech portal credentials to access the training module.
What happens if I do not complete the required course by the due date?
Students who do not complete the required training will receive an alert on their student account as a reminder to complete the course. This alert may inhibit registration.
How long does the training take to complete?
The training material addresses many different topics and can take approximately 1.5 to 2.5 hours to complete. For those interested in more detailed information additional resources are available for review through the training module.
I know I took this class last year. Do I have to complete it again?
Yes. We believe that requiring all students to take it every year is a responsible practice to ensure students receive the appropriate information about sexual harassment and misconduct. This requirement is also in compliance with the Illinois Preventing Sexual Violence in Higher Education Act.
If you have any questions or concerns, please feel free to contact the Office of Community Standards at conduct@iit.edu or check out our frequently asked questions here.
Thank you,
Raul Fernandez
Assistant Director of Community Standards
Office of Community Standards
conduct@iit.edu