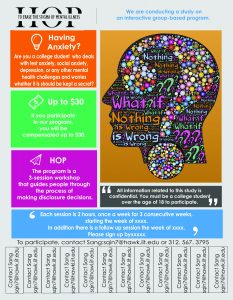 Are you a college student who deals with test anxiety, social anxiety, depression, or any other mental health challenge? Do you worry about keeping it a secret? If so, you may benefit from participating in a three-session workshop that guides people through the process of making disclosure decisions. Each session is two hours long, once a week, for three consecutive weeks. Session dates and times are below:
Session One: Thursday, February 8
Session Two: Thursday, February 15
Session Three: Thursday, February  22
Booster Session: Thursday, March 29
You will be compensated for your participation. To participate, you must be an Illinois Tech college student over the age of 18.
Contact Sang Qin at sqin7@hawk.iit.edu or 312.567.3795 to sign up.