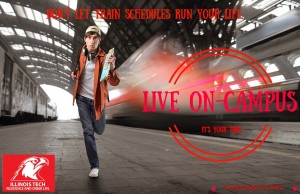 Room Reservation is quickly approaching.
If you don't know what type of room you want to live in, come to our Open House (sponsored by Residence Hall Association) on Thursday, March 24, 2016 from 7-10 p.m. Everyone is welcome.
Why should you come?
See many of our different room types
Get great ideas for decorating
See how residents maximize their space
Meet great people – potentially a new roommate
Win amazing prizes
Stop by the Residence and Greek Life Office, as we will be open from 7-10 p.m. as well.
We can answer questions about:
Room Reservation
Nesting
Priority unit selection
Cost/benefits of living on campus
Amenities for different buildings
We hope to see you in Carman Hall, Gunsaulus Hall, McCormick Student Village or State Street Village.
Contact an RHA representative with questions. You can also call 312.567.5075 or email housing@iit.edu.