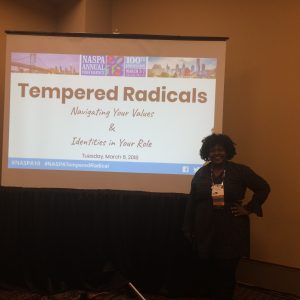 Earlier this month Residence Life Assistant Director Shavonn Nowlin presented on "Tempered Radicals: Navigating Your Values and Identities in Your Role" at the NASPA – Student Affairs Administrators in Higher Education Annual Conference held in Philadelphia. The session focused on the challenges new professionals face bringing their authentic selves into the workplace while strategically aligning themselves with their home campuses to become change agents who are heard and valued for their ideas.
It featured a panel presentation of change agents, or tempered radicals, with varying perspectives based on their roles, identities, and experiences with strategic alliance building. It highlighted key concepts to become a tempered radical, lessons learned through panelists' stories, and recognizing small wins. The session was co-presented with Kris Nolan-Parker, assistant dean at Rensselaer Polytechnic Institute; Daymyen Layne, director of residential education at The University of Arizona; and Deb Gould, area coordinator at Bridgewater State University.
Congratulations on a successful presentation, Shavonn!