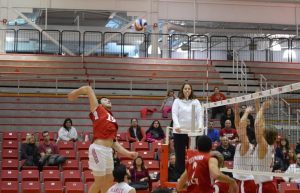 The Illinois Tech Men's Volleyball team traveled to nearby Robert Morris University-Chicago on January 25 to take on the NAIA's fifth-ranked team. The Scarlet Hawks were defeated by the Eagles in straight sets.
Set Scores
Set one: RMU 25, Illinois  Tech 7
Set two: RMU 25, Illinois Tech 16
Set three: RMU 25, Illinois Tech 15
How it Happened
The Scarlet Hawks started the match off slow, as RMU scored 15 of the set's first 16 points. The Eagles never looked back and dominated the first set 25-7.
In set two, the Scarlet Hawks were able to get some momentum going. Illinois Tech led early on and hung with the Eagles until a 5-0 run mid-set gave RMU an 18-11 advantage. An Eagles kill clinched the 25-16 set two win.
The third set featured an early RMU run, as the Eagles built a 12-4 lead. Illinois Tech scored three of the set's final four points before the Eagles once again used a kill to close things out.
Scarlet Hawk Standouts
Up Next
Illinois Tech will host a quad match on Saturday, January 28 in the Keating Sports Center.
Illinois Tech is scheduled to oppose Dominican University at 1 p.m. and Cardinal Stritch University at 5 p.m.
Matches featuring Calumet College of St. Joseph against Dominican (11 a.m.), as well as CCSJ and Cardinal Stritch (5 p.m.) will also take place on January 28.
Live audio, video, and statistics will be available for all four matches. The live audio will be powered by Illinois Media School.