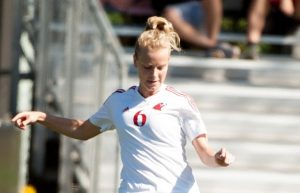 The Illinois Tech Women's Soccer team traveled to future conference opponent Alverno College on October 28 for the 2017 season finale. The Scarlet Hawks dominated from start to finish in a 9-0 win.
How it Happened
Julia Taliana scored in the third minute to put the Scarlet Hawks on the board. In what became a recurring theme in the first half, Kirsten Robinson tallied the assist.
Just four minutes later, Brianne Dane scored on a nice Robinson pass to set up a one-on-one chance.
Taliana and Robinson connected once again in the 23rd minute to extend the lead to 3-0. In the 43rd minute, Robinson tallied her fourth assist in as many goals, setting up Gillian Larsen.
To start the second half, Dane completed a hat trick with goals in the 52nd and 65th minutes. Hoefgen assisted on the first of those two goals as Illinois Tech built a 6-0 lead.
In the 68th minute, Taliana completed her own hat trick on an unassisted goal.
Hoefgen was key in the final two goals of the day. She scored in a one-on-one situation in the 69th minute before assisting Erin James on the team's ninth and final goal in the 78th minute.
Scarlet Hawk Standouts
Robinson's four assists were the most of her career and the most by an Illinois Tech player this season. She also took four shots.
Taliana had a hat trick on eight shots, finishing the season with a team-high 16 goals.
Dane tallied a hat trick as well, taking six shots to do so.
Hoefgen ended her stellar 2017 campaign with a goal and two assists on six shots.
Larsen tallied on four shots.
James scored on two shot attempts.
Stats to Know
Illinois Tech dominated the shot count, winning 31-2 in the category. Nineteen of the 31 shots were on net.
Alverno tallied 10 saves.
Illinois Tech finished the season 8-10-1.