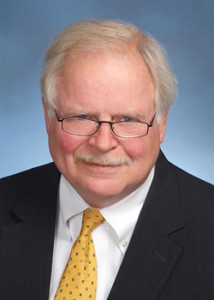 Would-be heroines, heroes, villains, corrupt politicians and other characters will be able to bid on roles in "Giving Ground," a new play by IIT Chicago-Kent professor Henry H. Perritt, Jr., at a cast auction on December 14, from 5 – 7 pm at the Chicago Bar Association (CBA), 321 South Plymouth Street in Chicago. The auction is a fund-raiser for The Artistic Home Theater and the CBA's Young Lawyers Section.
When the play premieres in May of 2012, lawyers attending will be able to earn four hours of MCLE credit for the performance and the discussion of 30 ethical and substantive legal issues woven into the plot in a manner to entertain both lawyers and laypeople. The legal issues involve professional responsibility, criminal procedure, bankruptcy law, corporate law and Internet law.
"Giving Ground" is a whodunit set in Chicago with murder, mayhem, political corruption and shady corporate dealings. Three young professionals set out to investigate the mysterious circumstances surrounding their friend's death before the police find the killer or the killer finds them.
Approximately two dozen roles will be auctioned off with suggested opening bids of $100 for major roles and $50 for more than a dozen smaller parts in which some of the actors have no lines. Bidders may bid on parts for themselves or on behalf of others. Institutional bidders such as law firms, businesses or organizations are allowed to place bids on behalf of a designee. Proxy bids will also be accepted.
"I wrote the play to make it entertaining but also accessible to a wide range of actors experienced, inexperienced, older, younger, male and female," said playwright and IIT Chicago-Kent professor Henry H. Perritt, Jr.
A member of the IIT Chicago-Kent faculty since 1997, Professor Perritt served as dean of the law school between 1997 and 2002. His scholarly interests include employment law, international relations, cyberlaw, entertainment and technology, and the rule of law in the Balkans. His musical about Kosovo, "You Took Away My Flag," originally played to sold-out houses at Chicago's Strawdog Theatre in June 2009. It reopened with a new cast and songs for an eight-week run at Theatre Building Chicago the following year. His other new play, "Airline Miles," had a workshop production to a standing-room only audience at The Artistic Home on November 13.
The auction is co-sponsored by IIT Chicago-Kent's Office of Continuing Legal Education, the Chicago Bar Association's Young Lawyers Section and The Artistic Home Theater. More information about "Giving Ground" and the cast auction can be found here. RSVP to yls@chicagobar.org for the auction.