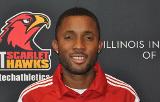 Roshane Ellison has been appointed to the position of Head Women's Soccer Coach at Illinois Institute of Technology. He will assume the role previously held by Ahmet Kose, who has chosen to pursue another professional opportunity.
Ellison has served on the Illinois Tech Women's Soccer staff for two seasons, helping lead the Scarlet Hawks to a 16-20-1 overall record and an 11-6 record in 2014. Prior to IIT, Ellison coached with Keystone Athletic and FC Pocono soccer academies in Pennsylvania.
Coming by way of Jamaica, Ellison has also put together an extensive playing career stateside, competing for Pocono Snow FC and FC Sonic of Lehigh Valley in the National Premier Soccer League. He was also an All-American and four-time All-Conference selection at Division II East Stroudsburg University in Pennsylvania from 2005-2009.
"I'm very excited to be at the helm of the Illinois Tech Women's Program for the 2015-2016 season," said Ellison. "We have a great core of committed and passionate players who will enable us to move forward positively. We will continue developing our name as a progressive and respectable program, both nationally and in the Midwest."
Ellison believes the success of the team last season will enable them for improvement moving forward.
"As part of the Illinois Tech Women's Soccer program last season, we forged a culture built on teamwork, discipline, respect, and commitment," Ellison said. "That will not change, as I believe with those elements as the pillars of our program, we will continue to move forward in a positive direction and build a program the entire Illinois Tech community will be proud of. "
Kose has accepted a position at his alma mater, East Stroudsburg University, on the men's soccer coaching staff.
"I'm excited for this next phase of my coaching career as I head to my alma mater, but I will also miss leading the Scarlet Hawks," said Kose. "Over the past two and a half years, I had the chance to coach some incredible student-athletes. I want to thank all of them for the success we were able to enjoy due to their hard work, commitment, and willingness to learn. I know each of them will succeed in future seasons and in their future careers. I want to thank Illinois Tech for giving me such a great opportunity, and I wish the athletic department all the best as they continue to grow into a strong Division III contender."
Illinois Tech women's soccer begins regular season play on Tuesday, September 1, hosting Benedictine University at Stuart Field at 7 p.m. Live video and statistics for all home contests will be available on www.illinoistechathletics.com.