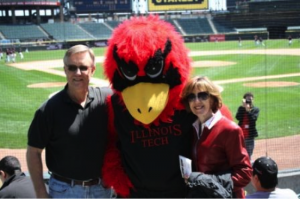 We honor President John Anderson in this month's Hawk Pride spotlight. Among his numerous responsibilities as President of Illinois Institute of Technology, Anderson has contributed a large portion of his spare time to cheering on Scarlet Hawk athletes at various sporting events both locally at the university and at national championship events. Joining the university on August 1, 2007, he came to us from Case Western Reserve University after serving as the Provost and Senior Vice President for their student body. He was fortunate to find the posting for the position of President at Illinois Tech and interview last minute to secure his position as President.
As president, he is primarily responsible for five large university projects: finances, quality, alumni relations, nation profile, and leadership. Since joining the university, Anderson was able to take dramatic steps with the help of university staff to balance our budget and bring financial stability back to the university – three years and counting. His high standards and expectations for a greater quality university have led to new faculty joining the university, more well-deserved promotions, and a richer environment for faculty to flourish in research, teaching, and scholarship through book and grant writing. On a national level, Illinois Tech is continuing to be recognized for its advances and students in the fields of STEM through institutions like the National Science Foundation and Department of Energy, putting us on the same playing field with institutions like the Massachusetts Institute of Technology (MIT) and the California Institute of Technology (Caltech). As a leader for the university, he continues to be upbeat and prideful even when things are down. "It's important to keep in mind we are growing and becoming a contender at the level of universities like MIT and Caltech."
Although riddled with a number of professional and formal responsibilities, the president always enjoys interacting with alumni and students which give him a number of stimulating opportunities he would have never had otherwise. After breaking ice at alumni events or trustee meetings, he meets fantastic and outstanding individuals who continue to rave about the university and want to know more about what students are doing; these interactions create something special for him eventually leading to opportunities and discussions with mayors, governors, and even shaking hands with President Barack Obama.
Anderson's connection to athletics doesn't start at Illinois Tech, but stems from his career as a college student at the University of Delaware and University of Illinois, and then a faculty member at Cornell University in New York. Being involved with a fraternity, intramurals were a great way to blow off steam and have a great time with his friends and brothers. The same went with his time at Cornell playing basketball against fellow faculty members. Although never a varsity athlete, Anderson had a very high amount of respect for how much time and work varsity athletes put into their sports.
Now being at Illinois Tech, when Anderson hears the words athletics, intramurals, or sports, his first thought is hard-working, brilliant students. "When you see a women's volleyball team who is basically half engineering, where are you going to find that anywhere else? It's a lot of work to be an engineer. I'm very impressed they can do all this and put in so many hours as a student and athlete. I have great respect for them being able to manage their time and keep their first priority as academics. They are truly the definition of a student-athlete."
Of all the games and events Anderson has attended, his favorite ones to attend are baseball and swimming. His favorite memory is a connection between Scarlet Hawk baseball player Nick Wise and a blast from the past – Willie Mays. It was a tough game against the University of Chicago (UChicago) at U.S. Cellular Field, but the Hawks were holding their ground well. As UChicago was up to bat, the batter hit the ball into the far outfield. Sprinting to make the catch, Nick Wise stuns the crowd with the same catch made by Willie Mays years ago. You can see the official catch by Mays here. This amazing moment has stuck with Anderson as his favorite in Illinois Tech athletics.
As athletics makes the transition from NAIA to NCAA, Anderson sees us recruiting more brilliant and passionate students to the Illinois Tech program to play against top schools with similar students like those in our academic environment. "Students who go out onto the field, play their hearts out, hang in there, and give 100% no matter what the score is will always be the spirit of Illinois Tech athletics."