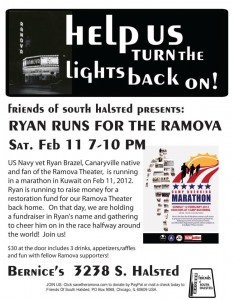 The IPRO 364-Ramovation student teams have worked for several semesters with the City of Chicago and Save the Ramova/Friends of South Halsted to restore and reopen the Ramova Theater at 3518 S. Halsted as a performance space.
On February 11, the near South Side neighborhood group Friends of South Halsted will hold a "Ryan Runs For The Ramova" fundraiser. US Navy Petty Officer Ryan Brazel, a Canaryville native on active duty in the Middle East, will compete in a marathon in Kuwait, and has dedicated his run to support the restoration of the Ramova Theatre back home in Chicago. Friends Of South Halsted's fundraiser is in Brazel's name and the gathering will cheer him on in the race taking place half way around the world and nine hours ahead.
The Ramova Theatre is the last Jazz Age, atmospheric, undeveloped theater on the near South Side of Chicago. Built in 1929, closed since 1986, the 1,400-seat theater has been the object of support and fundraising by neighborhood residents for six years. Efforts have come to a head, enlisting support from the community including aid from Illinois Institute of Technology and consulting from Market Value Productions, whose 1986 restoration of the Chicago Theater is well-known.
Saturday, February 11, 2012 from 7-10 PM at Bernice's Tavern, 3238 S. Halsted St. in Chicago
Tickets: $30 at the door. Admission includes three drinks, appetizers, raffles.

Tickets available at the door only. Donations may be made online at the Save the Ramova website.