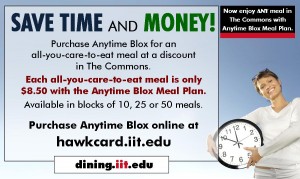 Purchase Anytime Blox for an all-you-care-to-eat meals at a discount in The Commons.  Each all-you-care-to-eat meal is only $8.50 with the Anytime Blox Meal Plan. Available in blocks of 10, 25 or 50 meals.
Perfect for commuters, Gunsaulus Hall residents, sorority and fraternity members, faculty, and staff!
Purchase Anytime Blox online here
For more information, email dining@iit.edu.