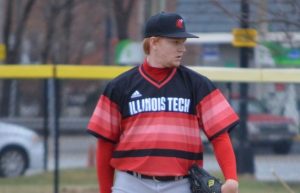 For the first time in more than a month, Illinois Tech Athletics will not host any home contests over the next week, but Baseball, Women's Lacrosse, and Men's and Women's Track and Field will still be busy. Live coverage links for each contest (if made available by the opposing school) can be found at each team's schedule page at www.illinoistechathletics.com.
Women's Lacrosse (12-1, 7-0) has a light week, but looks to remain one of two unbeaten teams in the Midwest Women's Lacrosse Conference on Thursday, April 13. The Scarlet Hawks will travel to nearby Concordia University Chicago for a 1 p.m. conference contest.
Baseball swept all four home games this past weekend against Maranatha Baptist. The Scarlet Hawks will have a chance to build off the success with a Tuesday, April 11 game at Calvin College in Grand Rapids, Michigan, at 3 p.m. CT, a Friday, April 14 doubleheader at 3 p.m. at Marian University in Fond du Lac, Wisconsin, and a Saturday, April 15 doubleheader at noon at Lawrence University in Appleton, Wisconsin.
Men's and Women's Track and Field will continue their outdoor season by competing in the two-day Benedictine University Relays at nearby BenU on April 14 at noon and April 15 at 10 a.m.