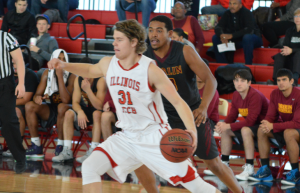 The Illinois Tech Scarlet Hawks have now advanced past the fall athletic season, but a new set of teams are ready to begin action. Both the Men's and Women's Basketball teams will see competition this week.
Men's Basketball began the season on November 15 when the team traveled to Anderson University in Anderson, Indiana.
Women's Basketball will also travel to Anderson University for a tip-off tournament. Illinois Tech will play Anderson on Friday, November 18 at 5 p.m. before opposing either Kenyon or Marietta on Saturday, November 19 at either 1 p.m. or 3 p.m. Any live links available for the contest will be available on the Women's Basketball schedule page.
Men's and Women's Swimming and Diving will compete in the University of Chicago Phoenix Classic November 18-20. November 8 events will begin at 6 p.m., while meets scheduled for November 19 and Sunday, November 20 will both get underway at 10 a.m. Live results for all three days will be available courtesy of UChicago.