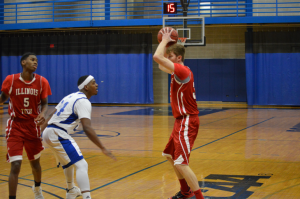 The Illinois Tech Men's and Women's Basketball teams will be busy this week, combining for five games total and one home contest at the Keating Sports Center.
Men's Basketball possesses a 3-3 record and is looking to surpass .500 this week for the first time since the program's re-inception in 2011-12. The team will play three contests away from home, the first of which took place on December 12 against Fontbonne University.
After Fontbonne, the Scarlet Hawks will head west to California. Illinois Tech will oppose UC Santa Cruz on Saturday, December 17 at 5 p.m. before taking on Cal Lutheran at a neutral site on Sunday, December 18 (also at 5 p.m.).
Live coverage links courtesy of the host institutions will be provided on the Men's Basketball schedule page.
Women's Basketball will also play this week. The first of the team's two games will take place on Wednesday, December 14 at 7 p.m. at the Milwaukee School of Engineering. MSOE will provide live statistics and video for the contest, with links available on the Women's Basketball schedule page.
On December 17, Illinois Tech will host North Park University at 2 p.m. in the Keating Sports Center. Live audio, video, and statistics will be available. The live webcast will be powered by Illinois Media School.