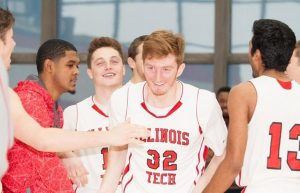 The Illinois Tech Department of Athletics will host 13 games in the Keating Sports Center over the next two weeks. Live links to audio, video, and stats will be available to all home contests on each team's schedule page at www.illinoistechathletics.com.
Men's Basketball will host two contests, the first on Tuesday, February 14 at 7 p.m. against Moody Bible Institute. On Thursday, February 16 the Scarlet Hawks will make up the February 8 cancellation against Lincoln Christian at 8 p.m.
Women's Basketball will also take on Moody Bible on the road on February 14 at 7 p.m. On Wednesday. February 15 the team will host Robert Morris (Peoria) at the Keating Sports Center for a 5 p.m. tip-off.
Men's Volleyball has a quiet week after a busy weekend. Illinois Tech plays just one match: a home contest against St. Xavier University on Friday, February 17 at 7 p.m.
Men's and Women's Track and Field will compete at University of the Chicago for the second time in three weeks. The Scarlet Hawks will head to Hyde Park on Saturday, February 18 to partake in the Margaret Bradley Invite.