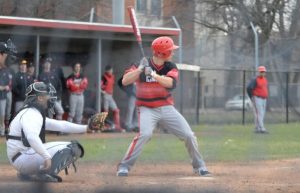 With the Men's Basketball team's trip to the USCAA Championships now complete, Illinois Tech's spring sports are at the forefront. This week, Women's Lacrosse, Men's Volleyball, and Baseball will all be in action in different regions of the country. Live coverage links for each contest, if available, can be found at www.illinoistechathletics.com.
Women's Lacrosse, off to a 2-0 start, look to build off the early season success with a non-conference tilt against Alma College in Alma, Michigan, on Tuesday, March 7 at 4 p.m. CT.
Men's Volleyball will head to the east coast for three weekend matches. On Friday, March 10 the Scarlet Hawks will oppose Lesley University in Cambridge, Massachusetts. at 7 p.m. CT). On Saturday, March 11 Illinois Tech will play two matches at Johnson & Wales University in Providence, Rhode Island. The Scarlet Hawks will face both Eastern Nazarene College (10 a.m. CT) and Johnson and & Wales (noon CT).
Baseball heads west to begin a week-long trip in Tucson, Arizona. The Scarlet Hawks will play eight games from March 11 through Saturday, March 18 in the desert at Tucson's Kino Sports Complex, the former Spring Training home of the Chicago White Sox and Arizona Diamondbacks. A full preview of Baseball's trip to Tucson will be posted later this week, but the Scarlet Hawks will begin the trip with single games against Augsburg on March 11 (5 p.m. CT) and Monday, March 13 (3:30 p.m. CT) and a doubleheader against Concordia-Wisconsin on Saturday, March 18 (6 p.m. CT).