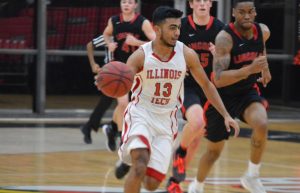 It is yet another busy week for Illinois Tech Athletics. While not many home contests are scheduled, six teams will be in action. If available, live coverage links to all contests will be p0osted on each team's schedule page at www.illinoistechathletics.com.
Men's Basketball will take its 20-5 record to the USCAA Championships this week in Uniontown, Pennsylvania. The first round of the tournament is set to begin on Wednesday, March 1 when the Scarlet Hawks will oppose Florida College at 3 p.m. CT. Illinois Tech will either play a winner's bracket or consolation game on Thursday, March 2. Wins on both March 1 and the March 2 winner's bracket contest would put the Scarlet Hawks in the USCAA National Championship.
Two spring sports will open up the season this week. Women's Lacrosse will play at Kalamazoo College on March 2 at 4 p.m. CT. After that, the Scarlet Hawks will play at Monmouth College (Ill.) on Saturday, March 4 at 1 p.m.
Also, Baseball will play its first games since 2015 on March 4 at 11 a.m. against the Eagles and Sunday, March 5 at 11 a.m. in Westfield, Indiana, against Robert Morris (Peoria).
Men's Volleyball is currently the lone team scheduled to play at home this week. Illinois Tech will host a tri-match on Friday, March 3 against Olivet College and Robert Morris (Chicago). Illinois Tech takes on the Comets in the Keating Sports Center at 3 p.m. before hosting RMU at 7 p.m. A live broadcast will be available for these contests powered by Illinois Media School.
Men's and Women's Track and Field will also be in action, competing at the University of Wisconsin-Stevens Point Final Qualifier on March 4. The meet is set to begin at 10:30 a.m.