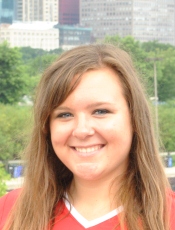 IIT volleyball player and political science undergraduate Kate Kendall has been selected along with thirteen other NAIA student-athletes to participate in the 2012-13 Red Cross/NAIA Collegiate Leadership Program. The initiative is now in its sixth year, and will inspire, motivate and create a new and diverse generation of American Red Cross volunteers and leaders through exemplifying the five core values of the NAIA Champions of Character program.
"Athletics plays such an important role in creating a sense of community on college campuses. The partnership with the NAIA has created a rich opportunity to connect campus communities with the life saving mission of the Red Cross through the energy of NAIA student-athletes," said Brian Hamil, Red Cross National Chair Biomedical Services.  "Since its inception five years ago, the Red Cross has experienced over 8,500 first-time blood donors from NAIA schools participating in this program."
The leadership program kicks off with two weeks of energetic training at the Red Cross National Headquarters located in Washington, D.C. from June 4 to June 15. The incoming class will participate in a rare and unique opportunity to acquire first-hand coaching, mentoring and professional leadership training presented by the Red Cross, one of the nation's largest non-profit organizations. In addition, Kristin Gillette, Director of Champions of Character, will hold character workshops during the two week leadership academy.
"Student-athletes selected for this program have an amazing opportunity to hone their leadership skills, build lifelong relationships and learn the necessary steps to carry out a lifesaving mission," said Gillette. "These student-athletes join an amazing group of Red Cross / NAIA Collegiate Leadership alum who over the years have increased the number of first time donors. I look forward to meeting these campus leaders in Washington, D.C. and following their impact once they return to campus."