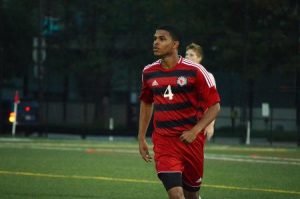 This week in Illinois Tech Athletics, all five Scarlet Hawk teams will be in action, making for yet another busy schedule.
Men's Soccer saw action first and started the week at home on October 4 against Maranatha Baptist at Stuart Field. The Scarlet Hawks lost to Maranatha 2-1 last year and beat them 1-0 in 2014.
After a few days off, the men will travel to Green Bay, Wis. to meet with St. Norbert on Saturday, October 8 at 2:30 p.m. The Scarlet Hawks look to avenge a 6-2 loss to St. Norbert from last year.
Women's Soccer will also be at home once this week as they will play Concordia Chicago on Thursday, October 6 at 7 p.m. at Stuart Field. A live webcast and live statistics will be available on the Athletics website and the Scarlet Hawks Front Row app. The live webcast will be powered by Illinois Media School.
The Scarlet Hawks will then make a trip to California for several matches. Illinois Tech will play on October 8, as they will go to Cal Lutheran in Thousand Oaks, Calif. to play UC Santa Cruz at 2 p.m. The Scarlet Hawks will face host Cal Lutheran on Monday, October 10 at 6 p.m.
Men's and Women's Cross Country is back in action again this week. The teams will compete Friday, October 7 in the Benedictine University Eagle Invite, which will start at 4 p.m. for the women and 4:45 p.m. for the men and take place at St. James Farm in Warrenville, Ill.
Women's Volleyball comes off of a busy weekend at home for an equally-packed weekend on the road. Illinois Tech will head to St. Mary of the Woods, Ind. to play four matches.
The first two will be played on October 7, with the first match at 2 p.m. against St. Mary of the Woods and the second at 4 p.m. against Rochester. October 8 brings the other two matches, with the first being against Berea at 9 a.m. and the second against Wright State (Lake) at 11 a.m.