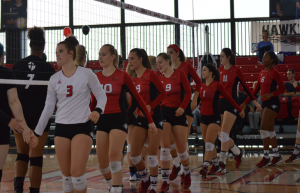 Fall sports are coming to a close, but five Scarlet Hawk teams are in action this week, with three of them heading down to Virginia for the USCAA Championships.
Women's Volleyball will start off postseason play for the Scarlet Hawks as they travel down to Virginia Beach, Va. for the USCAA National Championships. Illinois Tech will begin pool play in Pool B as the #6 seed on Thursday, November 10 with a pair of matches, with the first being at 11:30 a.m. CST against #10 seed NHTI and the second against #2 seed Florida College at 2:15 p.m. CST. Friday brings two more pool matches with the first at 9 a.m. CST against #3 seed Alfred State and the second at noon CST against #7 seed Carlow.
If the Scarlet Hawks make top four in their pool, the team will move on to bracket play on Friday, November 11 as well. with the quarterfinal matches set to kick off at either 3 p.m. CST or 4:30 p.m. CST.
Saturday, November 12 brings semi-final matches at either 9 a.m. CST or 11 a.m. CST. From there, the third place game will be played at 1 p.m. CST and the USCAA National Championship match will take place at 3 p.m. CST.
Men's and Women's Cross Country will also be in Virginia Beach for the USCAA Championships. Both races will take place on November 11, with the women starting at 8:30 a.m. CST and the men starting at 9:30 a.m. CST.
Men's and Women's Swimming and Diving will start their week not with a meet, but with the Ted Mullin "Leave it in the Pool" Hour of Power Relay for Sarcoma Research on Tuesday, November 8. Both teams will also be in action on November 12 when they host Illinois Wesleyan and Carthage at 1 p.m. at Keating Sports Center's Ekco Pool.