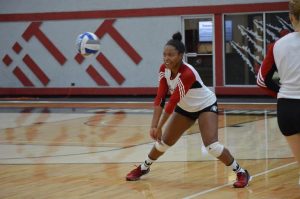 With almost all regular seasons coming to a close for the fall sports teams, the Scarlet Hawks see only three teams in action this week.
Women's Volleyball has two matches in one day this week, as the regular season comes to a close at home with the ACAA Championships in the Keating Sports Center. On Saturday, November 5 the Scarlet Hawks will take on Finlandia at 9 a.m.. followed by a matchup against Alfred State at 2 p.m. Live audio, video, and stats will be available on the Women's Volleyball schedule page for both matches. Live audio will be powered by Illinois Media School.
Off the first meet of the season, Men's and Women's Swimming and Diving continues the season at home on November 5 to take on Loras College at 1 p.m. at Keating Sports Center's Ekco Pool. Live video of the meet will be available.