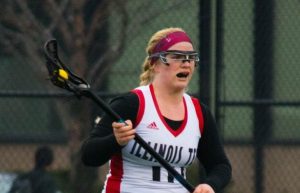 The Illinois Tech Women's Lacrosse team (4-6. 3-3 MWLC) hosted a Midwest Women's Lacrosse Conference contest on April 11 against Monmouth College (2-8, 1-4 MWLC). Behind a stellar night from freshman Shanie Scoles, the Scarlet Hawks snapped a three-match losing streak to defeat the Fighting Scots 14-8.
How it Happened
After an Alyssa DeLuca goal in the third minute of the match, Scoles took over. She scored four times in a four minute span to extend Illinois Tech's lead to 5-0. Madison Meredith assisted on three of the first five goals.
DeLuca and Scoles both scored twice before halftime, while Meredith netted a goal herself.
Leading 10-4 at intermission, DeLuca and Isabella Rubin quickly extended the advantage to 12-4 eight minutes in.
Monmouth's Kara-Jade Gordon went on a run, scoring three straight times to cut the lead to 12-7.
With two man-up opportunities late, the Scarlet Hawks capitalized. Scoles and DeLuca scored once again to ice the contest.
Scarlet Hawk Standouts
Scoles had a career game, scoring seven times on 11 shots (10 on net) to go along with five ground balls, six draw controls, and three caused turnovers.
DeLuca scored five times on five shots on goal with nine draw controls and three ground balls.
Meredith had five assists to go along with a goal and four draw controls.
Rubin scored once, had three ground balls, and two draw controls.
Jennifer Young led Illinois Tech with four caused turnovers and also had four ground balls.
Stats to Know
The draw was a big factor for Illinois Tech, outdoing the Scots 20-4 on DC's.
Illinois Tech attempted 12 more shots (32-20).
Clearing was also key. The Scarlet Hawks were 10-for-14 on clears, while the Scots were 11-for-20.
Up Next
Illinois Tech will oppose Cornell College on the road on Saturday, April 14 at 1 p.m.