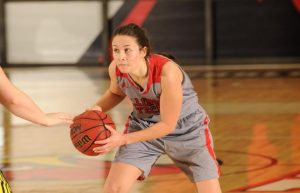 The Illinois Tech Women's Basketball team played the first of three consecutive away games on January 31 against Maranatha Baptist. The Scarlet Hawks hung tough against the Sabercats, but couldn't overcome a sluggish second quarter and fell 59-40.
How it Happened
The Hawks started the game very strong on offense, as they built a 15-11 lead through the first 10 minutes and shot 54.4% from the field. Illinois Tech also played good defense and held the Sabercats to a mediocre four-of-15 (26.7%) overall and two-of-seven (28.6%) from three-point range. Erin Efimoff had a stellar start, scoring eight points and going four-of-five (80%).
But the Sabercats had a great second quarter and climbed back into the lead thanks in part to rebounding (12) and defense (five steals). The Hawks shot 20% (two-of-10) from the field as the Sabercats went eight-of-22, making four from three-point range and building a 33-19 lead at halftime.
Illinois Tech continued to grind in the third quarter as they played strong defense (three steals) and went four-of-five (80%) from the charity stripe. Maranantha Baptist failed to shoot a single free throw. The free throw disparity proved to be the difference in the quarter, as both teams shot 33.3% with Illinois Tech outscoring the Sabercats 13-11.
The Sabercats continued their strong play in the fourth quarter, outscoring the Hawks 15-8 and coming away with the 59-40 victory. Kaylee Wicka went perfect from the field (two-of-two) in the fourth, scoring five points.
Scarlett Hawks Standouts
Wicka scored a team-high 18 points (six-of-13), going two-of-three from three-point range. She also had a team-high seven rebounds, four steals, and three assists.
Efimoff continued her strong play, scoring 12 points (five-of-11), going two-of-two from the charity stripe, and grabbing three rebounds.
Madison Davis contributed with five points, three rebounds, and three steals.
Stats to Know
Illinois Tech shot a better percentage from the field, going 15-41 (36.4%) while the Sabercats went 22-70 (31.4%).
Maranatha Baptist took 29 more shots, a direct result of the 40-26 rebounding advantage.
The Sabercats scored 17 more points off turnovers, outscoring the Hawks 33-16.
Up Next
Illinois Tech will be on the road again on Wednesday, February 1, as they travel to Indiana to face Trine University at 5 p.m. Trine will provide live video and statistics for the contest.