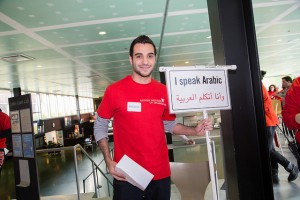 Student volunteers are needed for the 2015 Main Commencement Ceremony to serve as language translators for guests. The Main Ceremony will be held on Main Campus on Saturday, May 16, 2015, at the Ed Glancy Baseball Field. Graduates will be lining up in The McCormick Tribune Campus Center (MTCC) for a procession to the field. Student translators will need to be stationed in various areas along the route and on the field to assist the many guests coming to see their graduates on this important occasion.
Student language translators will need to be available from 7 a.m. until approximately noon on Saturday, May 16 and will be asked to attend an informational meeting in early May. They will hold signs that state the language they speak, and guests may approach them to ask questions.
There is no monetary compensation. However, any student volunteers who live in the dorms will be able to extend their housing contract until May 17. Attendance will be taken. Participants will receive a light breakfast, lunch, and a volunteer T-shirt. This is not a paid position. Volunteers will not receive a Social Security card.
If you would like to volunteer as a student language translator, fill out the Student Translator Volunteer Form.