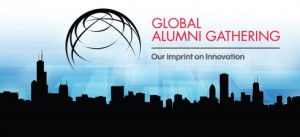 See firsthand how IIT is fueling innovation during a Global Alumni Gathering panel presentation at 2 p.m. on Friday, September 19, 2014 in the Hermann Hall Exposition Center. Jeremy Alexis (ARCH '97, M.S. DSGN '99) will lead the discussion of how IIT has been fueling innovation for nearly 125 years with speakers Hazem Dawani (CPE '01) and James McMahon (MET '81).
The Global Alumni Gathering is held in conjunction with the university's annual Homecoming activities and will feature entertainment by students from various countries who will also serve as event ambassadors. Register here and then see how IIT alumni are redefining innovation and changing the world.
Get complete event schedule, speaker bios, and registration information here.