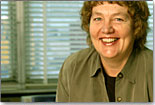 Ullica Segerstrale, professor of sociology, gave a presentation at the Trieste Forum of the World Academy of Art and Science (WAAS), held March 4-7 at the Abdus Salam International Centre for Theoretical Physics, Trieste, Italy. The forum's theme was "Impact of Science and Technology on Society and Economy."
In the session on Recognizing Talents and Genius, speaking on "Knowledge Is Power: Education for a Dynamic World," Segerstrale argued that talent and creativity rather than being identified need to be developed, and discussed project-based learning and real-world challenges as the best way of doing this. She described IIT's IPRO initiative as a way to bring out students' true capabilities in regard to much-needed skills in a marketplace that is becoming increasingly problem-oriented, team-based, multidisciplinary, and multicultural.
Segerstrale is a newly elected Fellow of the WAAS, a world network of individuals of distinguished accomplishment that includes heads of research institutes and international organizations and Nobel Prize winners. WAAS promotes an integrative academic perspective on the growth of knowledge and issues of global concern. It counts among its founding members Albert Einstein, Robert Oppenheimer, Bertrand Russell, Joseph Rotblat and Joseph Needham, among others.