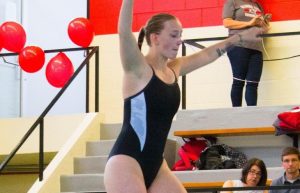 The Illinois Tech Women's Swimming and Diving team hosted Lake Forest College on February 3 for the 2018 Senior Day meet, honoring Milica Gvozdjan, Christian Jones, Ava Obenaus, Brigitte Temple, and Briana Tyler. The Scarlet Hawks seniors swam well in the final home meet of the season despite a close 106-101 defeat to the Foresters. Illinois Tech finished the season 6-6 in dual meets.
Meet Highlights
Jones recorded the best 1 Meter Diving score of her career in her last meet at Ekco Pool. She finished with an impressive 215.15 tally.
Temple was the winner of the 100 Yard Breaststroke, touching the pad at 1:10.16. Gvozdjan also set a season-best in the event (1:15.74).
In the 100 Yard Butterfly, Tyler earned a victory in the 100 Yard Butterfly (1:02.91).
Katherine Lydon won the 100 Yard Freestyle event with a time of 57.27s.
Jamie Wurster was victorious in a tight 100 Yard Backstroke, clocking in at 1:04.90.
The 400 Yard Medley Relay team of Kristin Wills, Temple, Tyler, and Lydon won with a time of 4:15.47.
Illinois Tech's 200 Yard Freestyle Relay team of Christina Hiotaky, Tessa Skubal, Wills, and Wurster narrowly missed victory, placing second by just 0.37s (1:46.96). Wurster led the group with a 25.79s split, while Skubal's 26.67s split was her fastest of the season.
Up Next
The Scarlet Hawks will compete in the Liberal Arts Conference Championships, which will take place at Luther College in Decorah, Iowa. The four-day event begins on Wednesday, February 14 at 7 p.m., followed by 10 a.m. preliminaries and 6 p.m. finals times on each of the next three days. Stay tuned to www.illinoistechathletics.com for news and links to any live coverage of the LAC Championships.