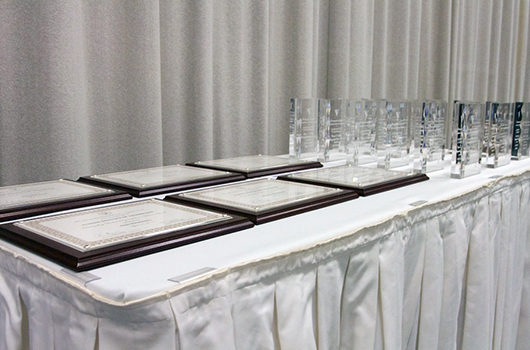 Seven Armour College of Engineering students were named recipients of the Clinton E. Stryker Distinguished Service Award at the 42nd Annual Clinton E. Stryker Awards Banquet held on April 27. The award is named for alumnus Clinton E. Stryker (EE, 1917) who also served as an associate professor and three terms on the Illinois Tech Board of Trustees.
Engineering students who were presented the award include: Abigail Avila (BME 5th Year), Emily Barnett (ARCE 4th Year), Tristan Busch (EMGT 4th Year), Ashley Dan (CHE 3rd Year), Aaron Grudowski (CE 4th Year), Omar Alhaj Ibrahim (BME 5th Year), and Bader Jarai (CHE 4th Year).
The award is granted annually to full-time undergraduate and graduate students who have maintained a 2.5 cumulative GPA and are in good academic standing. Nominees must have made a distinguished contribution to campus life through service to a particular organization or team, and/or by enriching the Illinois Tech residential community.
The Illinois Tech Chapter of Engineers for a Sustainable World was named the recipient of the Outstanding Student Organization Award at the banquet. The group seeks to create innovative and lasting solutions to local and global sustainability challenges. Through service days, field trips, and educational activities, the group helps Illinois Tech achieve its sustainability goals.
Stryker believed in encouraging students to broaden their outlook and develop leadership skills. In 1972 he established an endowment and subsequently made additional gifts to assist the university in funding student activities and inspiring leadership development.