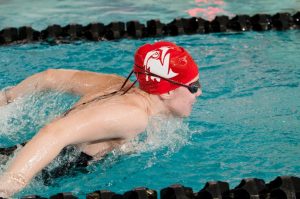 The Illinois Tech Women's Swimming and Diving team put together another strong performance on November 4 at Loras College. The Scarlet Hawks earned a 140-79 win in the dual, adding to its strong start to the season.
Meet Highlights
The 400 Yard Medley Relay team of Kristin Wills, Brigitte Temple, Briana Tyler, and Jamie Wurster started the day off right, earning a victory with a 4:20.83 time. The group won by more than seven seconds.
Illinois Tech placed all top three swimmers in the 200 Yard Freestyle, as Katherine Lydon (2:03.13), Delaney Shepherd (2:13.23), and Emma Prager (2:14.09) dominated the event.
In the 400 Yard Individual Medley, Temple earned victory with a 4:56.41 time, winning by more than 15 seconds.
Tyler earned a win in the 200 Yard Butterfly with a time of 2:23.93.
Wurster placed first in the 100 Yard Freestyle (58.42s).
Lydon took home a first-place finish in the 500 Yard Freestyle with a time of 5:31.08.
The Scarlet Hawks also placed all top three swimmers in the 200 Yard Breaststroke, as Temple (2:33.40), Prager (2:43.88), and Milica Gvozdjan (2:48.16) occupied the top marks.
To close the day out, Tyler, Christina Hiotaky, Tessa Skubal, and Lydon won the 400 Yard Freestyle Relay with a time of 3:59.39.
Up Next
On Saturday, November 11 the Scarlet Hawks will compete at Illinois Wesleyan against host IWU and Carthage.