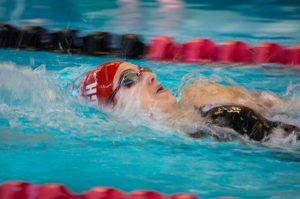 The Illinois Tech Women's Swimming and Diving team hosted the Lawrence University Vikings in a dual meet on January 13 at Keating Sports Center's Ekco Pool. The Scarlet Hawks controlled the meet from start to finish en route to a 142-110 victory, moving to 6-4 in dual meets on the season.
Meet Highlights
In the 100 Yard Backstroke, Jamie Wurster won with a time of 1:05.81. She also won the 50 Yard Freestyle (26.65s).
Illinois Tech placed the top two swimmers in the 100 Yard Breaststroke, with Brigitte Temple (1:11.21) and Emma Prager (1:13.72) leading the way. The duo also placed at the top of the 200 Yard Breaststroke, finishing with times of 2:33.63 and 2:36.59 respectively.
Temple was also the winner of the 400 Yard Individual Medley (4:56.34).
Briana Tyler was dominant in the 200 Yard Butterfly, winning by over 10 seconds with a time of 2:18.47.
The 200 Yard Medley Relay team of Kristin Wills, Temple, Tyler, and Wurster was victorious, clocking in at 1:56.57.
Katherine Lydon continued her impressive distance career with another 1000 Yard Freestyle victory, finishing with a time of 11:32.27. She was also the day's champion in the 100 Yard Freestyle at 57.48s.
The 200 Yard Freestyle Relay team of Wurster, Tyler, Christina Hiotaky, and Lydon closed out the day with a tight victory, winning by .10 seconds at 1:47.46.
Up Next
The Scarlet Hawks will travel to Carroll University on Saturday, January 20 for another dual meet. Illinois Tech will take on the Pioneers in Waukesha, Wisconsin, at 1 p.m.