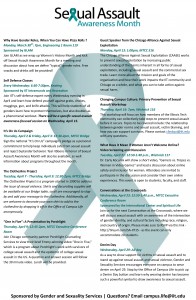 Join Gender and Sexuality Services and their campus partners for the following events in April as part of Sexual Assault Awareness Month:
Self Defense Classes
Every Wednesday: 6:30-7:30 p.m., Keating
Sponsored by IIT Intramurals and Recreation
Join IIT's self-defense expert every Wednesday evening in April and learn how defend yourself against grabs, chokes, muggings, gun, and knife attacks. This will help students of all genders learn how to protect themselves, but also doubles as a phenomenal workout. There will be a specific sexual assault awareness-focused session on Wednesday, April 15.
It's On Us Campaign
Thursday, April 2 and Friday, April 3: 12:30-2 p.m., McCormick Tribune Campus Center (MTCC) Bridge
Sign the national "It's On Us" campaign's pledge as a personal commitment to help keep individuals safe from sexual assault and reject bystander behavior. Teal ribbons in honor of Sexual Assault Awareness Month will also be available, as well information about programs throughout the month.
The Clothesline Project
Tuesday, April 7 – Thursday, April 9: 12:30-2 p.m., MTCC Bridge
The Clothesline Project is a program started in 1990 to address the issue of sexual violence. Shirts and decorating supplies will be available at our Bridge table, so all are encouraged to stop by and add your message to the clothesline. Additionally, all are welcome to decorate your own shirt to add to the clothesline by dropping it off in the Office of Campus Life anonymously.
"One in Five" A Presentation by Porchlight
Thursday, April 9: 12:45-2 p.m., MTCC Executive Conference Room
Join Chicago community partner Porchlight Counseling Services to view their brief Emmy-winning video "One in Five," which is a program about Porchlight's work with survivors of college sexual assault and the epidemic of college sexual assault in the United States. A question and answer session will follow the 30 minute video. Lunch will be provided.
Guest Speaker from the Chicago Alliance Against Sexual Exploitation
Monday, April 13: 1 p.m., MTCC, Room 516
The Chicago Alliance Against Sexual Exploitation (CAASE) works to prevent sexual exploitation by increasing public understanding of the harms inherent in all forms of sexual exploitation, including sexual assault and the commercial sex trade. Learn more about the mission and goals of the organization and how their work impacts the Illinois Institute of Technology community and Chicago as a whole, and what you can do to take action against sexual harm.
Changing Campus Culture: Primary Prevention of Sexual Assault Workshop
Thursday, April 16: 7 p.m., Wishnick Hall, Room 116
This workshop will focus on how members of the Illinois Tech community can collectively take steps to prevent sexual assault before it occurs. Topics to be covered include: the relationship between gender norms and sexual assault, victim blaming, and how you can support survivors. Contact clindqui@iit.edu with any questions.
What Does it Mean if Women Aren't Welcome Online?
Video Screening and Discussion
Tuesday, April 21: 12:50-1:40 p.m., Wishnick Hall, Room 117
Carly Kocurek will show a short video, "Gamers vs. Tropes vs. Women in Video Games" and lead a discussion about online safety and inclusion for women. Attendees are invited to participate in the discussion and consider their own online experiences. This event is open to students, faculty, and staff.
Conversations at the Crossroads
Wednesday, April 23: 12:50-1:40 p.m., MTCC Executive Conference Room
Join the International Center and Spiritual Life for the next Conversation at the Crossroads, where they will discuss sexual assault with an awareness of the intersection of gender identity, and cultural factors including race, religion, and country of origin. Be sure to RSVP here. The event can only accommodate 20 students.
Denim Day
Wednesday, April 29
As a way to show support for victims of sexual assault and to stand up against sexual assault and sexual violence, Gender and Sexuality Services encourages everyone on campus to wear denim on April 29. Stop by the Office of Campus Life to pick up a Denim Day button and learn why wearing denim has become such a powerful symbol to draw awareness to sexual assault.
This event reflects the values expressed in IIT's Diversity Statement and is intended to promote diversity at IIT.