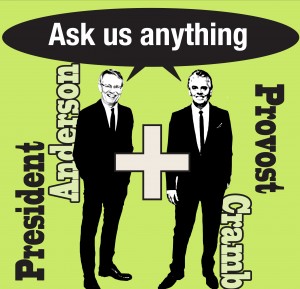 Join Student Government Association in a student forum from 12:30 – 2 pm on Thursday, February 28 in the Hermann Hall Ballroom. Talk about the issues at IIT and take the opportunity to ask President Anderson and Provost Cramb anything about how the university is planned and run.
Make sure your questions are answered and submit questions for the president and provost early by posting them here.
There will be a raffle for a Buffalo Wild Wings gift card for all who attend, so make sure you sign in. There will be another gift card awarded to whichever student invites the most people to the event, so make sure your friends sign in and tell us you invited them at the event!
Lunch Provided!