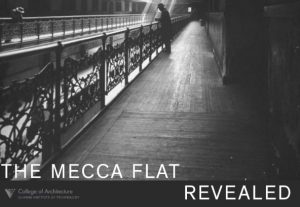 Illinois Institute of Technology and the College of Architecture are thrilled to announce the recent recovery of architectural elements and artifacts from the Mecca Flat—the historic residential building which previously occupied the site at the intersection of 34th Street and State Street, now the site of S. R. Crown Hall.
Recent work on the mechanical plumbing system situated on the southwest corner of the current building's grounds led to the discovery of intact tile flooring from the Mecca, among other artifacts. Work was suspended, and a team of local historians and urban archaeologists was assembled to uncover and excavate a significant portion of the remnants. These artifacts will be preserved, and a selection will be installed on site at the Graham Resource Center, in a permanent exhibition dedicated to the Mecca Flat. Others will be donated to national and local cultural institutions, to be conserved and shared with generations to come.
On Tuesday, August 7 at 11:30 a.m. the College of Architecture invites members of the public to S. R. Crown Hall to view these artifacts for the first time since their excavation, and join us for a conversation with community leaders, local historians, authors, and members of Illinois Tech, as we reflect on, discuss, and celebrate our shared history of this poignant site.
Support for this project comes from Barbara Donnelly.