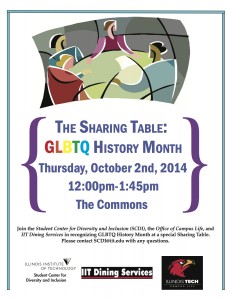 Join the Student Center for Diversity and Inclusion (SCDI), the Office of Campus Life, and IIT Dining Services in recognizing GLBTQ History Month at a special Sharing Table from 12-1:45 p.m. on Thursday, October 2, 2014, in the McCormick Tribune Campus Center Commons.
Contact SCDI@iit.edu with any questions.
This event reflects the values expressed in IIT's Diversity Statement and is intended to promote diversity at IIT.