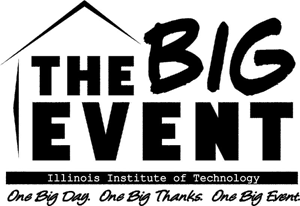 Join IIT students, university employees and alumni to give back to Chicago at the 5th annual Big Event on Saturday April 20. It's the biggest single service event at IIT, and this year, there are additional Friday night (April 19) and Saturday night (April 20) options for you to volunteer.
For the past 28 years, universities across the nation have participated in this annual event to show their appreciation to the surrounding community by completing service projects such as building community garden beds, mentoring youth and painting for community members. This year's Big Event will take place at various sites from the neighborhoods around the IIT main campus and across Chicago. We cordially invite you to participate in this year's volunteer events.
And, after you return to campus, plan to attend a picnic (sponsored by the Office of Campus Life) at 2:00 pm on IIT Main Campus for a picnic  as a thank you for all of your hard work!
Sign up or learn more here. Questions? Contact Lynne Meyer, director of Spiritual Life and Service Learning, at lmeyer2@iit.edu or 312.567.3160.