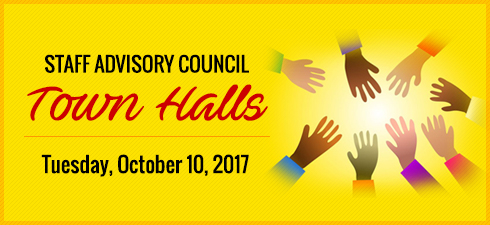 The Staff Advisory Council will be offering a series of Town Halls where you will be able to engage directly with senior leadership of the university. The first Town Hall of this type will take place on Tuesday, October 10 from 12:30–2 p.m. in the Hermann Hall Ballroom and will feature:
• Betsy Hughes, vice president for institutional advancement
• Bruce Watts, vice president for administration
They will be discussing fundraising and facilities.
The council encourages you to make use of this public forum to ask questions, provide suggestions, and learn about their work, visions, and goals. We greatly appreciate the ideas, collaboration, and energy at previous Town Halls, so we look forward to keeping conversations and initiatives moving forward with the help of this new series.
(This event will also be provided via an online live stream to staff at the Downtown Graduate, Rice, and Moffett campuses unable to attend in person. The link to that stream will be provided via email the morning of the town hall).
To RSVP and submit a question you would like answered, please complete this online form.
The Staff Advisory Council looks forward to seeing you at the Town Hall, as well as at the President's University Update Meeting the following day.