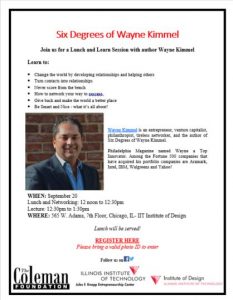 Join us for Six Degrees of Wayne Kimmel on Tuesday, September 20 from noon-1:30 p.m. at the Illinois Tech Institute of Design (565 W. Adams). Lunch will be served. Bring a valid photo ID to enter. Register here.
Learn to:
Change the world by developing relationships and helping others
Turn contacts into relationships
Never score from the bench
How to network your way to success
Give back and make the world a better place
Be smart and nice – what it's all about
Wayne Kimmel is an entrepreneur, venture capitalist, philanthropist, tireless networker, and the author of Six Degrees of Wayne Kimmel.