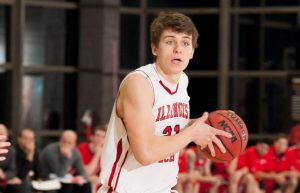 The Illinois Tech Men's Basketball team played in its first United States Collegiate Athletic Association Division I Championship Game on March 4 at the University of Penn State-Fayette. The fourth-seeded Scarlet Hawks built an early lead on the second-seeded Concordia (Alabama) Hornets, but the opponent surged ahead in the second half to win the contest 61-51.
How it Happened
Illinois Tech were the aggressors to start the contest. The Scarlet Hawks opened up an 11-point lead (21-10) with 8:27 to go in the first half. Samuel Rarick started the game out on fire, scoring eight of Illinois Tech's first 11 points.
The Hornets capitalized on some foul trouble for the Scarlet Hawks. Both Rarick and Max Hisatake committed three fouls in the first half, as Concordia got as close as four before halftime.
Illinois Tech weathered the Hornets initial surge and managed to hold a rebounding advantage of nine (22-13) in the first half despite the starting front court on the bench with fouls. Jake Digiorgio picked up the slack, leading Illinois Tech with 12 points off the bench over the first 20 minutes. The Hawks led 33-27 at intermission.
The Hornets opened the second half on a roll, going on a 14-4 run to take a four point lead at the first media timeout (13:45 left).
Trailing by five after a timeout with 9:47 left, Illinois Tech cut the lead down to two (46-44) before the Hornets brought it back to six (50-44) and called a timeout of their own.
After the Scarlet Hawks cut the lead to three again, the Hornets went up nine (57-48) with just under three minutes left to play thanks to a few baskets from Dennis Miles. After a timeout, the lead stretched to 11. The extra boost would propel the Hornets to victory.
Scarlet Hawk Standouts
Digiorgio led the team with 16 points on a near-perfect seven-of-eight shooting day. He also had six rebounds and hit both of his foul shots.
Rarick finished with 11 points and six rebounds, ending his Scarlet Hawk career with over 1,900 career points.
Malik Howze had nine points, six assists, and three steals.
Hisatake led all players with 12 rebounds. He also blocked two shots.
Stats to Know
Second half shooting was the key difference in the contest. The Hornets were 13-of-26 (50%) while Illinois Tech was seven-of-28 (25%).
Neither team was effective from long range. Illinois Tech made just three shots from three-point land (25%) while the Hornets made two (20%).
Illinois Tech out rebounded the Hornets 42-34.